Audio Products with Versatility, Quality, and Reliability
ICEpower Audio Products are proven technology platforms that accelerate time-to-market, reduce risk and ensure high-quality, reliable results. With no upfront costs and low minimum order requirements, you can confidently design and manufacture audio products that meet your customer's needs.
Audio Products
ICEpower's Audio Products are off-the-shelf audio electronic components such as amplifiers, combined amplifiers and power supplies, stand-alone power supplies, class D amplifier ICs, and reference designs.
Our Audio Products provide a market-proven, mature technology platform to base your product design on. This enables a faster, lower-cost path to the market.
Design Support
When you choose to work with our Audio Products, our design support engineers will engage closely with your design team, providing technical assistance and access to our product documentation, certifications, and design guidelines. At ICEpower, we understand that technology and products are only part of the solution. That's why we believe that providing exceptional design support is equally important to ensure your product's success.
Applications for ICEpower Audio Products
There is a great chance you have come across tunes delivered through ICEpower based solutions.
Audio Creation
ICEpower Audio Products utilized in musical instrument amplifiers used by guitarists, bass players, and keyboard players, whether they are rehearsing in the teenage room or playing live concerts at the biggest venues in the world. 
Audio Recording
ICEpower Audio Products utilized in studio monitors are used from the smallest personal podcasting studios to the largest professional recording studios worldwide. Very likely, some of your very favorite music has been mastered on studio monitors powered by ICEpower.
Live Sound
ICEpower Audio Products utilized in the amplifiers in the public address speakers used by the local band playing a gig in your favorite pub, as well as the advanced powered line arrays or high power rack amplifiers used at the largest concerts and music festivals. 
Sound Reproduction
Our Audio Products power hi-fi and home theatre amplifiers, subwoofers, active speakers, and wireless speakers for your home, as well as rack amplifiers used in commercial and corporate installations such as bars, restaurants, airports, your office, karaoke bars, and jukeboxes.
The Fun One's
The general versatility and robustness of ICEpower solutions mean they have found their way into many curious applications. From roller coaster rides in theme parks to jacuzzis, MRI scanners used in hospitals, loud-hailing devices used for avoiding pirate attacks on commercial vessels, sonars for submarines, and many more.
So, if you are working on an application that includes audio and you don't find it on the list, please don't let that stop you from contacting us.
Audio Products – Power Modules
ICEpower has developed and manufactured class D amplifiers and switch-mode power supply modules for more than two decades. Today, we offer you a wide selection of Power Modules, including class D amplifier modules with on-board, matching switch mode power supply, separate class D amplifier modules, and separate power supply modules.
Benefits with ICEpower Audio Products
Our Power Modules provide a platform to base a design, offering several advantages.
Time to Market
Samples in stock and available from our website enable you to evaluate and assess our platforms quickly and rapidly start-up development. With the amplifier and/or power supply is taken care of, you can focus on the other elements of your design. Basing your design on a known, proven quantity takes the risk out of your project.
High Quality
Designed and manufactured to the highest standards. 20 years of experience has taught us how to create solutions that last and hold up, not just in the lab, but also under real-world use cases. Furthermore, all our products undergo a thorough full functional test before leaving our production site. Our modules are market-proven with market returns below 0.3%.
Reliable Supply Chain
We have long term relationships with two electronics manufacturers in Thailand and have our own staff on-site frequently. In addition, we maintain close relationships with all key sub-suppliers, including e.g. magnetics, MOSFETs, and other key components. You tap into our sourcing and purchasing power, providing reliable, on-time delivery at competitive costs. 
Managed Life Cycle
When components go EOL or become hard to source, when there are new safety or EMC standards, we take care of re-designing and updating the products. We do this while maintaining form, fit and functional compatibility. You don't need to spend time and resources on updating the power section of your products – we do that for you.
Don't hesitate to reach out!
If you want to know more about our Audio Products and pricing or talk to our solutions experts, just fill out the form, and we'll get back to you.
Audio ICs
ICEpower Audio ICs are flexible technology platforms for implementing high-performance, high-power, reliable class D amplifier designs cost-effectively. Our class D Audio ICs are the cornerstone of our amplifier power platforms. Therefore, we have extensive and deep application expertise when designing our ICs.
In some cases, we offer design access to our ICs and reference designs. This can be a good solution if your specific project requirements fall outside our existing power module platforms. In order to make commercial sense, typically, the expected annual volume needs to be above 10k per year.
Get a head start with an ICEpower Audio Reference Designs
We can create reference designs for your specific application based on our large catalog of platforms to simplify and speed up your design process. In addition, when you work with our ICs, you get access to design support. Not just from FAEs covering a large portfolio of diverse products, but from the IC designers who have developed the ICs and successfully executed several amplifier designs based on them.
A long history of audio semiconductor design
Over the years, ICEpower has developed more than twenty class D amplifier ICs for a wide range of applications. These include high-end hi-fi, powerful professional audio amplifiers, mobile phones, automotive, and flat-panel TVs. We have gained considerable experience with class D amplifier semiconductor development through these projects.
While there are many companies doing class D ICs, for most of them, it is just a small segment of their business. They do ICs for everything – washing machines, alarm clocks, calculators, etc. Class D amps just happen to be one item in their portfolio. But ICEpower is different. All the ICs we do are class D amplifier ICs.
Class D Audio Amplifier Design
When designing a class D amplifier, you typically have two options. You either use a monolithic amplifier IC or you design with discrete components.
Designing with Monolithic Class D amplifier ICs
A monolithic IC integrates everything except the output filter into one IC.
The advantage typically is the cost and simplicity of the design. However, while monolithic amp IC's audio performance is usually adequate for many purposes, it is rarely HI-FI-grade. Furthermore, there are not really any monolithic ICs available above around 200W per channel.
Designing with Discrete Components
The alternative is to design the amplifier using discrete components such as MOSFETs, gate drivers, comparators, op-amps, etc.
This is usually a much more complex design process, requiring specialist knowledge and IP in class D amplifier technology, as well as much time to fine-tune audio performance, protection mechanisms, etc. The advantage is full flexibility, the ability to design higher power amplifiers, and potentially much better audio quality (if you know what you are doing).
The ICEpower Way
ICEpower's class D chipsets represent an alternative that lies somewhere between and offers the best of both worlds. Our chipsets integrate all of the modulation, feedback, monitoring, start-up & shut-down sequencing, protection, etc., but keep the MOSFETs externally. This makes it very easy to scale power and channel counts to the specific application. In fact, our chipsets can scale from around 50W all the way to 7kW.
When applying our proprietary modulation and feedback topologies, we are able to create much better audio performance than typical monolithic ICs with much better linearity and lower noise. Whereas monolithic amps typically have noise levels around 100-110dB SNR, we are able to create amplifiers with noise levels down to +130 dB SNR, matching the dynamic range of the very best DA converter ICs on the market.
Below 100-200W per channel, a monolithic-based amplifier design will typically be cheaper. From around 100-200W, our chipsets can often compete on the cost of the total solution. And above 200-300W, no monolithic solutions are available, and we believe our chipsets offer the most cost-effective path while also providing superlative audio performance.
Audio Products Quality
Our quality is based on our local culture. With the size of Denmark…. or ICEpower…. or any other relevant analogy, our much-valued asset is and can only be our quality. Our first products were available in the year 2001. They are still in use, and they still perform, and we can listen to them every day. Although the consumer electronics industry is characterized by short product life cycles, the audio industry, in general, is characterized by long product lifecycles and making products that last for a lifetime (or almost). 
Many end-users will hang onto their AVR product throughout their life. They will often gladly pay to repair or replace parts if the product fails. In the musical equipment industry, there are many examples of musicians who hold on to a favorite instrument or piece of equipment throughout their entire career because of the unique sound, feel, or sentimental reasons, e.g., being an heirloom.
In the professional audio community, failure during a live event is the worst nightmare. The show must go on, always, no matter the conditions. This underlines how we think of quality. Our products must work and continue to work, for many years, even under harsh circumstances.
Our +1000 years of ICEpower design experience in audio and many proven platforms have provided us with a thorough understanding of quality in Audio Products. 
ICEpower only works with high-quality components. We always design with a solid margin concerning component tolerances. 
ICEpower uses a structured approach for design reviews and design verification tests with thorough checklists. We handle all safety and compliance certifications and perform both HALT testing and drop testing on all products to ensure we meet our expectations for performance and reliability.
We conduct reliability testing in a generic and proven test setup. We have full tracking of all products. We work remote yield monitoring, and we have the necessary burn-in capability. Our failure rate has been below 0,3% over the last 10 years.
Working with us means that the ICEpower product maintenance team is your product maintenance team for your products from the cradle to the grave. 
Audio Amplifiers
Our intelligent audio amplifier power solutions are designed for highly competitive consumer and professional audio applications.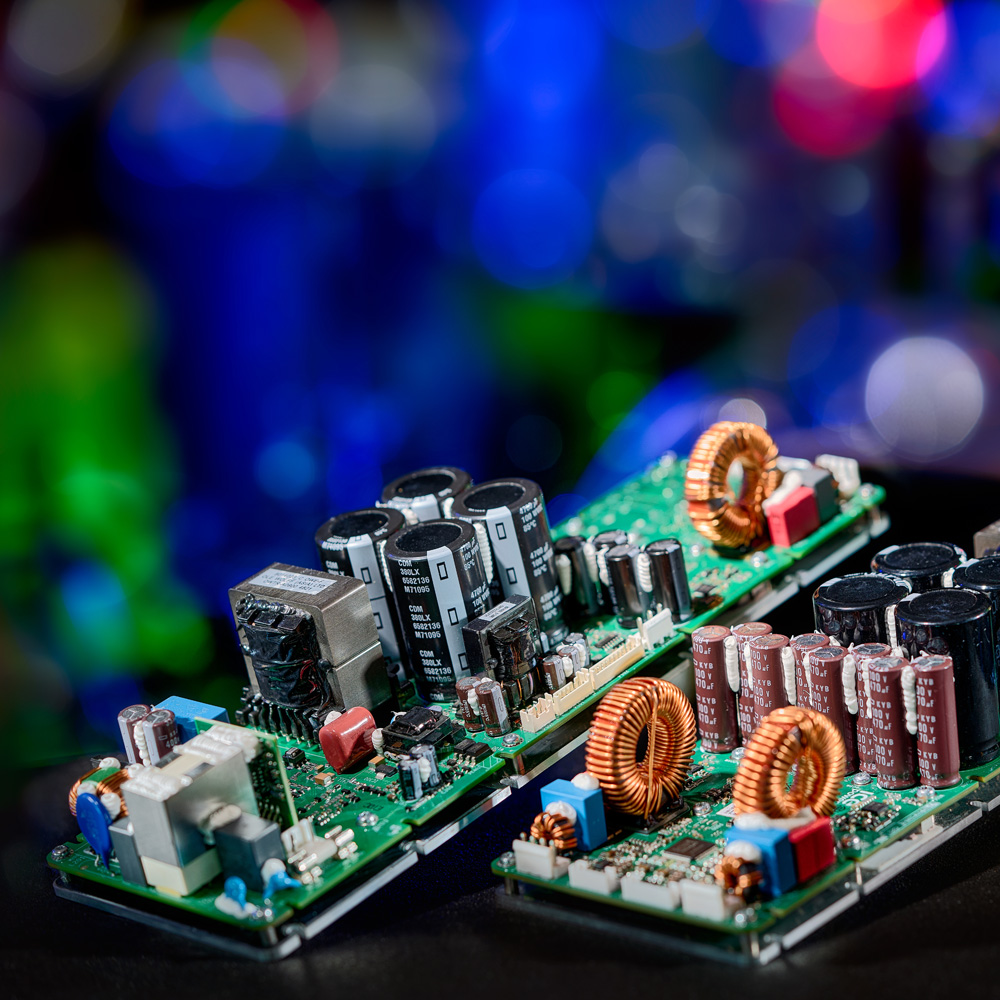 Audio ICs
With great power comes great responsibilities. ICEedge Series provides high power with outstanding reliability.
Audio Power Supplies
Even the best sounding amplifier can seem lacking without a rock-solid power supply behind it.
Stay Up To Date With ICEpower
Be the first to hear about our new products, workshops, events, contests and more.
Don't hesitate to reach out!
We offer off-the-shelf audio solutions for most needs
Developing your next Turnkey Solution is an exciting project and working with ICEpower secures a smooth process.
We have extensive experience in creating high-quality solutions for some of the largest brands in the world.
Once we have received a briefing on your project and requirements, we will deliver a complete project scope with solution architecture and timing plans.